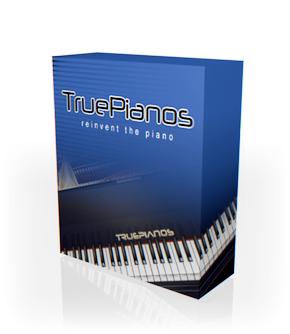 Дoвольно интересное звучание у инструмента.
When the instrument blends transparently with the musician's hands, reality becomes music.
TruePianos VSTi was designed with exactly this in mind giving the inspiration an instant GO as soon as you touch the keyboard.
Following the tradition, we have optimized the instruments for a real-time performance. The CPU usage is low even for 96khz host sampling rates, and for advanced polyphony we support dual-core CPUs, spreading the load symmetrically.
TruePianos has multiple modules and offers an intuitive control to match your playing style.
The full version of TruePianos currently contains three piano modules with a multitude of presets, and also comes with one year of free upgrades and e-mail support.
Within the support period our customers are also entitled for all additionally released TruePiano modules, free of charge.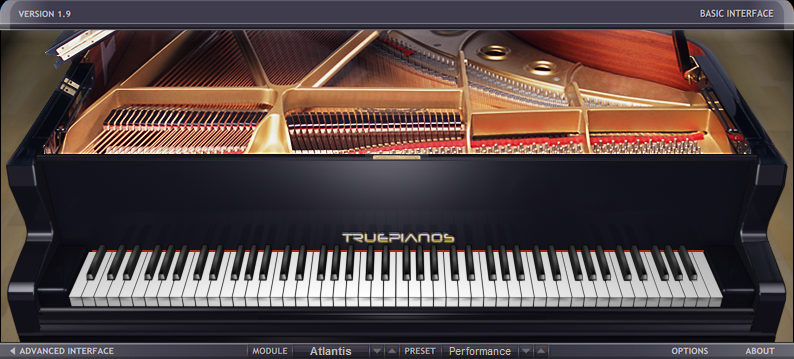 The piano keyboard (which reacts to your mouse as well), basic controls, Options and About buttons, as well as the functionality to switch to a different piano module and a preset. TruePianos consists of multiple modules and presets. Each module represents a significantly different variant of a piano sound, while the presets change the piano character without affecting the basic properties of the piano.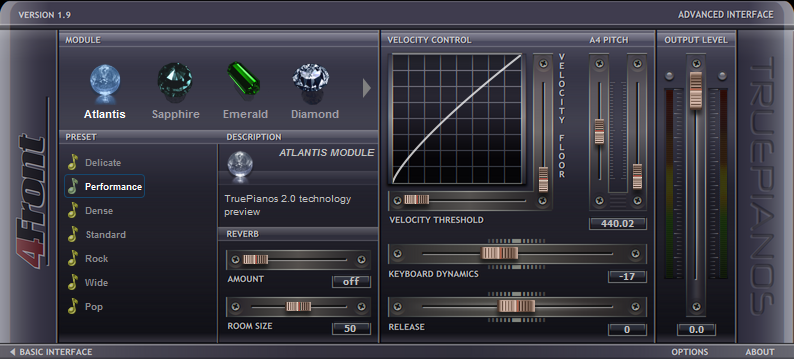 Here you can see the advanced preset selector, as well the sliders to control the individual parameters of the sound such as keyboard sensitivity, dynamic response of the piano, release time of the notes, tuning and the volume.
You can access options screen by clicking Options button in the lower right corner of the interface. Also, when you run the software for the first time, you will see the Options screen. Do not quickly pass it by. Your further piano experience depends on how well you will set up the dynamic response of your keyboard.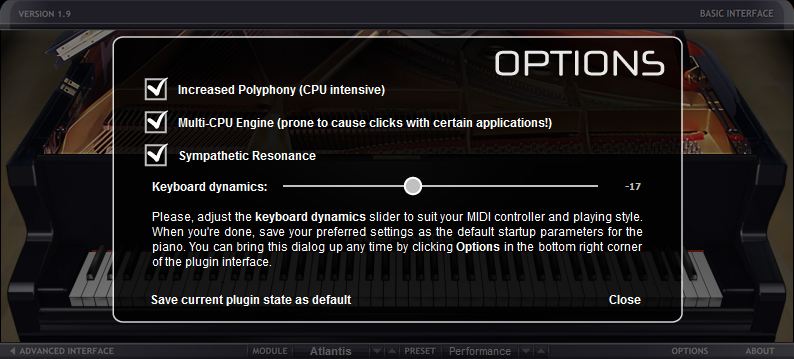 For my CME UF8 keyboard I find values -20...-17 to be close to optimal for my playing style, for Yamaha keyboard the slider should be around zero. Please, tune it to match your keyboard - just keep playing, and if it plays too difficult - move the slider to the left, otherwise if the notes come too bright, move the slider to the right. When you are finished, press 'Save current plugin state as default' and then 'Close'.
Additionally, you have options to turn on Sympathetic Resonance, Increased Polyphony mode, or the support for dual core processors. Note, that some applications (such as Cakewalk SONAR) have their own way of handling multi core processors, which depending on your setup, may not work very well together with TruePianos dual core support turned on. Since nobody has yet defined a standard of how the processor CPU time should be managed on multi core workstations, we invite you to check these options and find the best balance of quality vs performance on your system.
System Requirements
TruePianos system requirements vary, depending on the TruePiano module used. The future updates to the TruePiano Core engine will most likely affect these requirements. Below are the estimations based on the current version of TruePianos.
Minimum system requirements
- Windows 2000/ XP or newer
- 1GHz Pentium 3 or Athlon CPU
- 128 MB of free RAM for TruePianos to use
- A VSTi host (e.g. Cubase, Sonar, energyXT)
- A soundcard with proper ASIO drivers
To use TruePianos with all features enabled, the following minimum configuration is recommended:
Recommended
- Windows 2000/XP or newer
- 2.5-3 GHz CPU, or a 1.5 GHz dual core CPU
- 256 MB of free RAM for TruePianos to use
- A VSTi host (e.g. Cubase, Sonar, energyXT)
- A soundcard with proper ASIO drivers
Пароль:cjclan.clan.su